Submitted by

GreyHawk

on August 13, 2011 - 13:27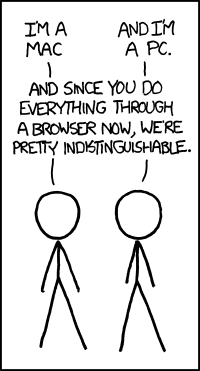 Click to enlarge. Attribution: xkcd.
1
To quote Henry Jenkins, Director of the Comparative Media Studies Program as well as a full Professor of Literature at MIT, on the topic of media convergence:
We are living in an age when changes in communications, storytelling and information technologies are reshaping almost every aspect of contemporary life -- including how we create, consume, learn, and interact with each other. A whole range of new technologies enable consumers to archive, annotate, appropriate, and recirculate media content and in the process, these technologies have altered the ways that consumers interact with core institutions of government, education, and commerce.
That's a lot of "stuff" all coalescing into new, hopefully synergetic ways of disseminating and assimilating information. We've seen examples of it most recently with regard to the activities of loosely organized anonymous hacking groups as well as with the recent internationally reported riots - the riots in Egypt and London, for example (but by no means the only ones).
Even citizen journalism has taken on new power and meaning as various technologies merge, enabling citizens to report local news and events to the masses like never before.
It's a brave new world of information exchange, security and cyber-warfare - and it's permeating the very fabric of the cultures in many first-world nations.
How do you see this playing out now, in your life? Where do you think it's going to lead us, and what are some of the possible as-yet unforeseen consequences that may arise?
Comments are open - remember, this is an Open Thread.
Namaste.
Only footnote references - and comments - appear over-the-fold.